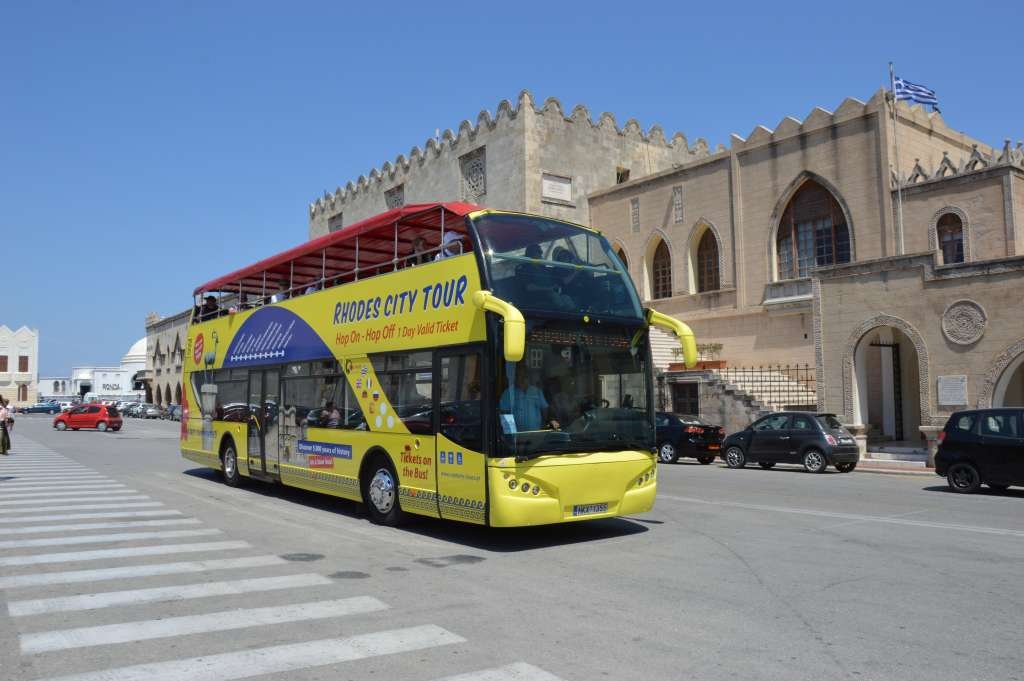 To the North of Eleftherias Square, you will see King George square, also surrounded by monumental public buildings. The most impressive one is the Government House, a replica of the Venetian doge palace, which was built in 1924-36 and was the seat of the Italian governor of the Dodecanese. The building next to it is the Archbishop's Palace. Right after, you will see the church ofEvaggelismos (Annunciation), the metropolis of Rhodes, with icons created by Photis Kontoglou. This church is a true copy of the church of the Knights of Saint John, which was located next to the Grand Master Palace and was completely destroyed in 1856 because of an explosion. It was constructed according to plans and descriptions of 19th century travelers.
The fountain in the church's yard is a replica of the Viterbo fountain, a city in North Italy. On the other side of the road lies the Town Hall and the National Theatre and further down nightclub Elli, in front of the homonymous popular beach. The Muslim cemetery is also located in the same area. On one end of the cemetery stands the mosque of admiral Murat Reis -former church of Aghios Antonios (Saint Antony)- the only mosque to be found out of the Old Town walls. The admiral, who was killed in Rhodes in 1522, lies in a circular mausoleum next to the mosque. The small yellow house on the other end of the cemetery is Cleobulus villa, where author Laurence Darell used to live. In his book entitled Reflections on a Marine Venus (Kanakis editions), he records his impressions of the two years (1945-47) he spent in Rhodes. 
Grand Albergo de le Rose. In front of Elli beach stands the most famous Italian building of Rhodes: the Hotel of the Roses (Grand Albergo de le Rose). It was built in 1930 and during mid-war, it was considered to be one of the most luxurious hotels in Europe. All the rich and famous that passed by the island stayed here. Moreover, in Grand Albergo de le Rose the treaty between Israel, Egypt and Jordan was signed in 1949. Today, the casino of Rhodes is accommodated in one of its wings.
​
ΙMPRESSIVE BUILDINGS. Eleftherias square lies along the port, next to the sea, and is surrounded by buildings of impressive size and peculiar architecture:
the Bank of Greece

Aktaion

the Courthouse

the Port Authority

the Post Office.